PART TWO: Major Exhibitions and Artistic Developments
Major Exhibitions: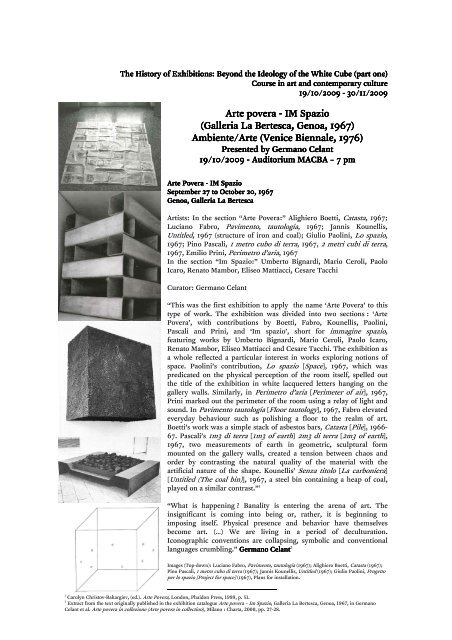 Arte Povera gained significant momentum through a series of landmark exhibitions that showcased the works of its key artists. One of the earliest and most influential exhibitions was the "Arte Povera - Im Spazio" held in 1967 at the La Bertesca Gallery in Genoa, curated by Germano Celant. This exhibition brought together artists like Giovanni Anselmo, Alighiero Boetti, and Jannis Kounellis, among others, and established Arte Povera as a cohesive movement with a shared vision.
Another crucial exhibition was the "Arte Povera plus Azioni Povere" (Arte Povera plus Poor Actions) held in 1968 at the Amalfi Coast, curated by Germano Celant. This exhibition extended the boundaries of traditional art forms by incorporating performance-based actions alongside installations and sculptures. It emphasized the movement's interest in ephemerality, interactivity, and the involvement of the viewer.
Artistic Developments:
As Arte Povera gained recognition, its artists continued to push the boundaries of their practice, exploring new ideas and expanding their artistic vocabulary. One key aspect of Arte Povera was its engagement with the natural world and the environment. Artists like Giovanni Anselmo incorporated living elements such as plants and rocks into their works, blurring the line between nature and art. Anselmo's "Torsion" (1968), for example, featured a granite boulder suspended by a steel cable, highlighting the delicate balance between natural forces.
The exploration of space and architecture was another significant development within Arte Povera. Mario Merz, for instance, utilized igloos made of found objects to create immersive environments that addressed themes of shelter, nomadism, and human interconnectedness. His use of Fibonacci sequence, a mathematical series, in his installations added an element of order and harmony to the seemingly chaotic structures.
The incorporation of language and text was another notable development within Arte Povera. Alighiero Boetti, known for his conceptual and linguistic explorations, created works that merged visual art with language, often through the use of embroidery. His renowned series "Mappa" (Maps) depicted the geopolitical divisions of the world, highlighting the interconnectedness and fluidity of borders.
Conclusion:
Major exhibitions and artistic developments that propelled Arte Povera to international recognition. Landmark exhibitions like "Arte Povera - Im Spazio" and "Arte Povera plus Azioni Povere" played a crucial role in establishing the movement's identity and expanding its artistic scope. Artists within the movement continued to experiment with materials, engage with nature and architecture, and incorporate language into their works.
---
PART THREE: Impact and Ongoing Relevance of Arte Povera in Contemporary Art
Legacy and Influence:
Arte Povera left an indelible mark on the art world, challenging established artistic norms and inspiring subsequent generations of artists. Its emphasis on everyday materials, process-oriented approaches, and socio-political engagement had a profound impact on contemporary art practices. The movement's exploration of environmental concerns and the use of unconventional materials foreshadowed the rise of ecological art and sustainable practices in later years.
Arte Povera's legacy reverberates through the contemporary art landscape in various ways. Firstly, the movement's emphasis on the use of unconventional materials and found objects laid the foundation for subsequent artistic practices centered around assemblage, installation, and mixed media. Artists today continue to draw inspiration from Arte Povera's exploration of the ordinary and the transformational potential of everyday materials.
Secondly, Arte Povera's engagement with socio-political issues remains pertinent in contemporary art. The movement's critical examination of consumerism, globalization, and environmental concerns anticipated many of the themes that artists continue to address today. Arte Povera challenged the notion of art as a commodity and emphasized the potential of art to provoke social and political reflection.
Thirdly, the spirit of experimentation and improvisation embraced by Arte Povera continues to resonate in contemporary artistic practices. The movement's emphasis on process, chance, and viewer participation opened up new avenues for artistic expression and blurred the boundaries between different art forms. Artists today continue to explore the intersections of sculpture, performance, and installation, inviting audiences to engage actively with their works.
Notable Artists Influenced by Arte Povera:
Arte Povera's influence can be observed in the works of numerous contemporary artists. Anselm Kiefer, a German artist known for his monumental installations and exploration of history and memory, was inspired by Arte Povera's use of unconventional materials and their symbolic potential. Kiefer's works often incorporate organic substances, such as straw, lead, and ashes, evoking a sense of decay and regeneration.
The American artist Robert Rauschenberg was also influenced by Arte Povera's spirit of experimentation and the incorporation of everyday objects. Rauschenberg's "Combines" series, which integrated found objects and materials into his artworks, echoed the movement's rejection of traditional artistic boundaries and its embrace of the mundane.
Contemporary artists like Ai Weiwei, Cornelia Parker, and Haegue Yang have also drawn inspiration from Arte Povera. They share a similar interest in utilizing unconventional materials, exploring socio-political themes, and creating immersive environments that encourage viewer participation. These artists exemplify how Arte Povera's influence extends beyond Italy and continues to resonate globally.
Conclusion:
Arte Povera's impact on contemporary art cannot be overstated. The movement's emphasis on unconventional materials, engagement with socio-political issues, and experimental approaches have shaped artistic practices and inspired subsequent generations of artists. Arte Povera's legacy can be seen in the continued exploration of found objects, the blurring of artistic boundaries, and the ongoing critical reflection on societal issues. By challenging the traditional notions of art and embracing the humble, Arte Povera has left an enduring mark on the art world, ensuring its relevance for years to come.