J. E. H. MacDonald
The Art History Archive - Canadian Art
---
This Website is Best Viewed Using Firefox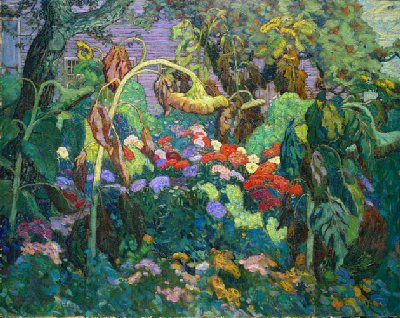 The Group of Seven
Franklin Carmichael
Lawren S. Harris
Alexander Young Jackson
Frank H. Johnston
Arthur Lismer
J.E.H. MacDonald
Frederick H. Varley
Canadian Landscape Artist
Biography by Brandi Leigh - 2008.
James Edward Harvey MacDonald was born on May 12th, 1873 in Durham England. He emigrated to Canada as a teen with his English mother and Canadian father when he was only fourteen. Once he completed his studies of art in both Hamilton and Toronto he began to work at Grip Limited from 1895 to 1911 along with other members of the Group of Seven.
When MacDonald was twenty six he married Joan Lavis – a student at McMaster University; the two had a son named Thoreau in 1901. During this time he became Art Director at Grip, and supervised many fellow artists including Johnston, Thomson, Lismer and Carmichael. MacDonald enjoyed sketching, becoming a member of many sketching clubs in Toronto and taking many sketching trips along with others from Grip. He also enjoyed working with his hands, and did carpentry work around the house. Some of his work included big frames which he made to fit his artwork. Not only did he supervise his fellow artists but was considered a father figure because he would help the other artists to improve their own works.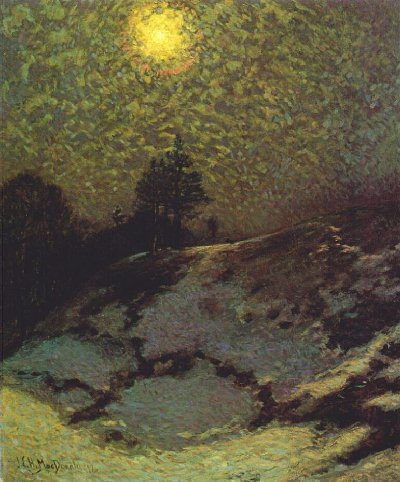 MacDonald joined the Arts and Letters club of Toronto, where he became friends with Harris. The two shared a common interest in Canadian Art and Theosophy. In 1917 MacDonald took some time off his painting to pursue poetry; this change was probably due to the death of his friend Tom Thomson. A volume of MacDonalds poems, entitled 'West by East' was published after his death.
In the fall of 1918, MacDonald took a painting trip to Algoma with some of the members of the Group of Seven. "Algoma Waterfall" is one of MacDonalds most famous paintings, he finished it in 1920. The Group of Seven was officially formed in 1920 and MacDonald was considered its founding father.
In 1922, MacDonald returned to employment as a teacher at the Ontario College of Art. During his summers, he traveled to Lake O'Hara to paint, and returned every year until 1930. In 1931 he suffered a stroke and ended up spending his recovery time in Barbados during the summer of 1932.
Unfortunately MacDonald passed away in the fall of 1932, and due to his death, the group of seven quickly fell apart.
Artworks by J. E. H. MacDonald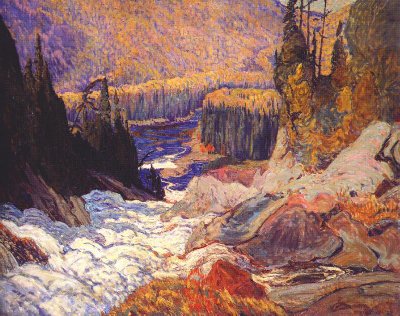 By the River Early Spring - 1911
Tracks and Traffic - 1912
Thomsons Rapids Magnetawan River - 1912
Early Evening Winter - 1912
The Lonely North - 1913
A Rapid in the North - 1913
Winter Sunshine - 1914
March Evening Northland - 1914
Laurentian Hillside October - 1914
Logs on the Gatineau - 1915
The Tangled Garden - 1916
Autumn Colour Rock and Maple - 1916
The Little Falls Sketch - 1918
Autumn Algoma - 1918
A Sandy Beach Lake Ontario - 1918
The Wild River - 1919
The Little Falls - 1919
The Beaver Dam - 1919
Leaves in the Brook - 1919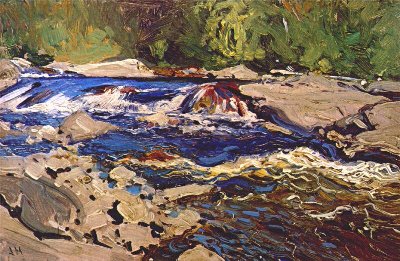 Beaver Dam and Birches - 1919
Falls Montreal River - 1920
Batchawana Rapid - 1920
Algoma Waterfall - 1920
The Solemn Land - 1921
Forest Wilderness - 1921
Windy Day Little Turtle Lake - 1922
The Lake October Evening - 1922
Rowanberries Algoma - 1922
October Shower Gleam - 1922
Mist Fantasy Sand River Algoma - c.1922
Lake McArthur - c.1925
Lake Ohara Rainy Weather - 1928
Lichen Covered Shale Slabs - 1930
Hazy Day Odaray - c.1930
Clearing Weather Sherbrooke Lake - c.1930
Northland Hilltop - 1931
Mountain Snowfall Lake Oesa - 1932
Goat Range Rocky Mountains - 1932