Cubism
The Art History Archive - Art Movements
---
This Website is Best Viewed Using Firefox
By Charles Alexander Moffat
Definition of Style & Subject Matter:
Cubism was a highly influential visual arts style of the 20th century that was created principally by the painters Pablo Picasso and Georges Braque in Paris between 1907 and 1914. The Cubist style emphasized the flat, two-dimensional surface of the picture plane, rejecting the traditional techniques of perspective, foreshortening, modeling, and chiaroscuro and refuting time-honoured theories of art as the imitation of nature. Cubist painters were not bound to copying form, texture, colour, and space; instead, they presented a new reality in paintings that depicted radically fragmented objects, whose several sides were seen simultaneously.
Typical cubist paintings frequently show letters, musical instruments, bottles, pitchers, glasses, newspapers, still lifes, and the human face and figure.
The Name:
Cubism derived its name from remarks that were made by the painter Henri Matisse and the critic Louis Vauxcelles, who derisively described Braque's 1908 work "Houses at L'Estaque" as composed of cubes. In Braque's work, the volumes of the houses, the cylindrical forms of the trees, and the tan-and-green colour scheme are reminiscent of Paul Cézanne's landscapes, which deeply inspired the Cubists in their first stage of development, until 1909. It was "Les Demoiselles d'Avignon", a work painted by Picasso in 1907, that forecast the new style; in this work, the forms of five female nudes became fractured, angular shapes. As in Cézanne's art, perspective was rendered by means of colour, the warm reddish browns advancing and the cool blues receding.
Braque's "Houses at L'Estaque"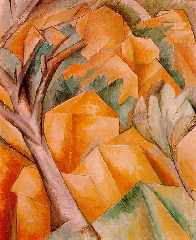 Picasso's "Les Demoiselles d'Avignon"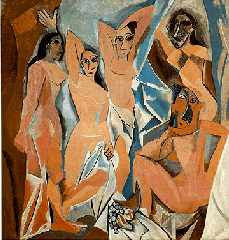 Cezanne's "Victor Chocquet"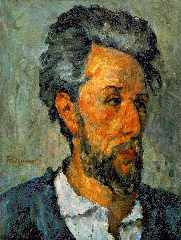 Analytical Cubism:
The period from 1910 to 1912 is referred to as Analytical Cubism. Paintings executed during this period showed the breaking down, or analysis, of form. Right-angle and straight-line construction were favoured, though occasionally some areas of the painting appeared sculptural, as in Picasso's "Girl with a Mandolin" (1910). Colour schemes were simplified, tending to be nearly monochromatic (hues of tan, brown, gray, cream, green, or blue preferred) in order not to distract the viewer from the artist's primary interest--the structure of form itself. The monochromatic colour scheme was suited to the presentation of complex, multiple views of the object, which was now reduced to overlapping opaque and transparent planes. These planes appear to ascend the surface of the canvas rather than to recede in depth. Forms are generally compact and dense in the centre of the Analytical Cubist painting, growing larger as they diffuse toward the edges of the canvas, as in Picasso's "Portrait of Ambroise Vollard".
Picasso's "Girl with a Mandolin"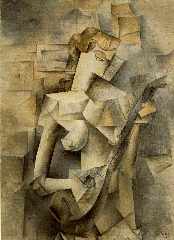 Picasso's "Portrait of Ambroise Vollard"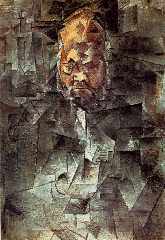 Synthetic Cubism:
Interest in the above subject matter continued after 1912, during the phase called Synthetic Cubism. Works of this phase emphasize the combination, or synthesis, of forms in the picture. Colour is extremely important in the pieces' shapes because they become larger and more decorative. Smooth and rough surfaces are contrasted with one another; and frequently non-painted objects such as newspapers or tobacco wrappers, are pasted on the canvas in combination with painted areas. This collage technique emphasizes the differences in texture and poses the question of what is reality and what is illusion in painting.
Picasso's "Still Life with Chair-Caning". The first collage.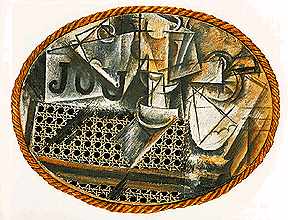 Braque's "Large Nude"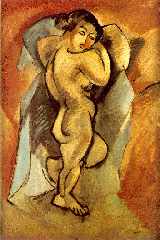 Braque's "Violin and Pitcher"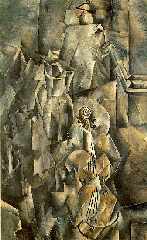 Braque's "Terrace of Hotel Mistral"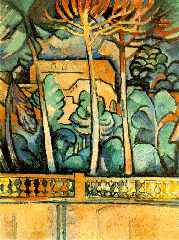 Georges Braque:
Born on May 13th, 1882, Georges Braque received his training at the local art school in Le Havre. From 1902 to 1904 Braque went to Paris to study at the Academie Humbert and then at the Ecole des Beaux-Arts (School of Fine Arts) in the studio of Leon Bonnat. Braque's early works, those of 1903-05, were executed in the mood of early impressionism. Greatly influenced by André Derain, Henri Matisse, and Maurice de Vlaminck, Braque entered (1906 or 1907) his Fauve period, in which he used soft undulating patterns and brilliant colors. Unlike the other Fauves, however, he showed an interest in architectonic solidity of composition and an emphasis on strongly defined volumes rather than color and brushwork.
A crucial change in Braque's art came in the fall 1907, when he rediscovered Paul Cézanne at the memorial exhibitions at the Salon d'Automne and the Bernheim-Jeune Gallery. At this time, he also met Picasso. In the late work of Cézanne, both Braque and Picasso saw a new geometrization of form and new spatial relationships that were to become the basis of cubism. Spurred by his close association with Picasso, whose "Les Demoiselles d'Avignon" has been called "the first painting of the 20th century," Braque transformed his style radically. Within three years, Picasso and Braque invented analytic cubism, a new, completely nonillusionistic and nonimitative method of depicting the visual world.
Examples of Georges Braque's work:
Terrace of Hotel Mistral
Viaduct at L'Estaque
Large Nude
Houses at L'Estaque
Musical Instruments
Fruit Dish
Harbor in Normandy
Castle at La Roche-Guyon
Violin and Pitcher
Violin and Candlestick
Bottle and Fishes
Man with a Guitar
Homage to J.S. Bach
Le Portugais (The Emigrant)
Man with a Violin
Still Life Bach
Fruit Dish
Quotidien du Midi
Still Life with a Violin
Fruit Dish, Ace of Clubs
Pedestal Table
Woman with a Guitar
Le Quotidien
Gillette
The Violin
Fruitdish and Glass















Braque's Synthetic Period:
Braque's works from the period 1917-20 are derived compositionally from synthetic cubism, the second phase of cubism, which began about 1914. Much flatter and more variegated in color, they include brightly dotted decorative passages. Around 1930-31, Braque moved to the coast of Normandy in France. As a result, he changed the subjects of his paintings; bathers, beach scenes, and seascapes were now his favorite themes. Stylistically, he became increasingly interested in ornamentation and patterned surfaces. During the late 1930s and early '40s, Braque was drawn to melancholy themes. From 1945, birds were a dominant subject. Braque's canvases done during the 1950s show a return to the brilliant colors of the Fauve period, as in the Louvre ceiling (1952-53) and the decoration for the villa at Saint Paul-de-Vence (1954). Active until the end of his life, Braque produced an oeuvre that includes sculpture, graphics, book illustration, and decorative art.
Braque's "Bottle and Fishes"

Georges Braque was the only artist ever to collaborate with Picasso as an equal. He admitted that they were "like climbers roped together, each pulling the other up". From 1907 they worked so closely together, exploring the planes and facets of the same subject matter, that some of their work appears almost identical. Although they developed their own natural autonomy as artists, they carried Cubism to another level that was brighter and more legible.
By 1929 however their innate differences were quite clear, for the two had long since parted ways. They had parted in 1914, for at the outbreak of WWI Braque entered the army as an infantry sergeant and served with distinction, being decorated twice in 1914 for bravery. In 1915 he suffered a serious head wound, which was followed by a trepanation, several months in the hospital, and a long period of convalescence at home at Sorgues. During this period he added to the sayings he had been in the habit of scribbling on the margins of drawings, and in 1917 he published a collection of these sayings called "Thoughts and Reflections on Painting."


New means, new subjects. . . . The aim is not to
reconstitute an anecdotal fact, but to constitute a
pictorial fact. . . . To work from nature is to
improvise. . . . The senses deform, the mind forms.
. . . I love the rule that corrects emotion.


Released from further military service, the artist rejoined the Cubist movement, which by then was in its synthetic phase. In 1917-18 he painted, partly under the influence of his friend Juan Gris, the geometric, strongly coloured, nearly abstract "Woman Musician" and some still lifes in a similar manner. Rapidly he moved away from geometry toward forms softened by looser drawing and freer brushwork. An example of the change is the 1919 "Still Life with Playing Cards." From this point onward his style ceased to evolve in the methodical way it had during the successive phases of Cubism; it became a series of personal variations on the stylistic heritage of the eventful years before WWI.
International acclaim:
By now Braque was a prosperous, established modern master, much in the favour of the well-to-do members of postwar French society. Working again much of the time in Paris, he transferred his studio from Montmartre to Montparnasse in 1922 and three years later moved into a new Left Bank house designed for him by a modern-minded architect, Auguste Perret. In 1923 and again in 1925 he had commissions from Sergey Diaghilev, the great ballet impresario, for the design of stage sets. In 1930 he acquired a country residence at Varengeville, a hamlet near Dieppe.
His painting during these years is most easily classified, because of its stylistic variety, on the basis of subject matter. From 1922 to about 1926 he did a series of canephores, pagan-looking women carrying fruit. Overlapping with this group in time is the series of cheminées, fireplace mantelpieces laden with fruit and perhaps a guitar. By 1928 he was doing a series of gueridons, pedestal tables holding the material previously assigned to mantelpieces.
In 1931 he undertook a new medium of expression: incised, white drawings, reminiscent of ancient Greek pottery designs, executed on plaster plaques painted black. Later in the 1930s he began a series of figure paintings; first-rate examples are "Le Duo" and "The Painter and His Model," and in 1937 he won the Carnegie Prize. During World War II he produced a collection of small, generally flat, very decorative pieces of sculpture, in a style recalling again ancient Greece and centring on vaguely mythological themes. After the war he resumed his practice of doing a number of paintings on a single subject: first came a series of billiard tables, then one of studio interiors, and then one of birds--large, lumbering creatures that seem charged with some forgotten archaic symbolic meaning. During the last years of his life Braque was honoured with important exhibitions throughout the world, and in December 1961 he became the first living artist to have his works exhibited in the Louvre. He died on August 31st 1963.
Picasso's "Portrait of Gertrude Stein"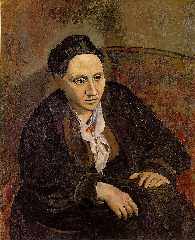 Picasso's "Harlequin"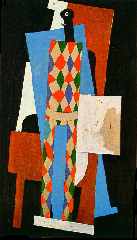 Pablo Picasso:
Pablo Ruiz y Picasso, (1881-1973), Spanish painter and sculptor, considered the greatest artist of the 20th century. He was unique as an inventor of forms, as an innovator of styles and techniques, as a master of various media, and as one of the most prolific artists in history. He created more than 20,000 works.
He was born in Málaga on October 25, 1881. Picasso was the son of José Ruiz Blasco, an art teacher, and María Picasso y Lopez. Until 1898 he always used his father's name, Ruiz, and his mother's maiden name, Picasso, to sign his pictures. After about 1901 he dropped "Ruiz" and used his mother's maiden name to sign his pictures.
Picasso is known for his "Blue Period", "Rose Period", and finally something dubbed "Protocubism".
Protocubism:
In the summer of 1906, during Picasso's stay in Gosol, Spain, his work entered a new period influenced by Greek, Iberian, and African art. His celebrated "Portrait of Gertrude Stein" reveals a masklike treatment of her face. The key work of this early period is "Les demoiselles d'Avignon". Its picture surface resembling fractured glass and was so radical that it was not even understood by contemporary avant-garde painters and critics. It destroyed spatial depth and the ideal form of the female nude, and turned it into harsh, angular shapes.
Cubism—Analytic and Synthetic:
Inspired by the volumetric treatment of form by the French postimpressionist artist Paul Cezanne, Picasso and Georges Braque painted landscapes in 1908. Some of their paintings are so similar that many critics find it difficult to tell them apart. Working together between 1908 and 1911, they were concerned with breaking down and analyzing form, and together they developed the first phase of cubism, known as analytic cubism.
Picasso's favorite subjects were musical instruments, still-life objects, and his friends such as one famous portrait of "Daniel Henry Kahnweiler".
Picasso's "Portrait of Gertrude Stein"
Picasso's "Harlequin"
In 1912, pasting paper and a piece of oilcloth to the canvas and combining these with painted areas, Picasso created his first collage, "Still Life with Chair Caning". This technique marked a transition to synthetic cubism. This second phase of cubism is more decorative, and color plays a major role, although shapes remain fragmented and flat.
Picasso continued to practice synthetic cubism throughout his career, but he continued to use different styles as well. Two works of 1915 demonstrate his simultaneous work in different styles: "Harlequin" is a synthetic cubist painting, whereas a drawing of his dealer, Vollard, is executed in his Ingresque style, so called because it emulated the style of the 19th-century French neoclassical artist Jean August Dominique Ingres.
Cubist Sculpture:
Picasso created cubist sculptures as well as paintings. The bronze bust "Fernande Olivier" (also called Head of a Woman) shows his consummate skill in handling three-dimensional form. He also made constructions—such as "Mandolin and Clarinet—from odds and ends.
Leading On:
Picasso also got into Realist and Surrealist styles. He worked as a designer with Sergey Diaghilev and the Ballets Russes. He met and married the dancer Olga Koklova, of whom he did many portraits of. This marriage did not go well and by the 1930s his cubist paintings expressed an underlying eroticism, reflecting his newest love, Marie Thérèse Walter. He painted "Guernica" in1937 after the massacre in the Basque town.
Picasso's palette grew somber with the onset of World War II and death was the subject of numerous works. He formed a new relationship during the 1940s with the painter Françoise Gilot who bore him two children, Claude and Paloma; they appear in many works that recapture his earlier styles. The last of Picasso's companions is Jacqueline Roque, whom he met in 1953 and married in 1961. He then spent much of his time in southern France.
He started to copy great masters of the past such as Eugene Delacroix, and Edouard Manet. He made hundreds of lithographs and also got into ceramics and produced some 2000 pieces. Picasso made important sculptures during this time: "Man with Sheep" and "She-Goat". In 1964 Picasso completed a welded steel maquette (model) for the 18.3-m (60-ft) sculpture Head of a Woman for Chicago's Civic Center. In 1968, during a seven-month period, he created an amazing series of 347 engravings, restating earlier themes: the circus, the bullfight, the theater, and lovemaking.
Throughout Picasso's lifetime, his work was exhibited on countless occasions. Most unusual, was the 1971 exhibition at the Louvre, in Paris, honoring him on his 90th birthday. Other than Braque, no other living artist had been exhibited there. Picasso died in his villa Notre-Dame-de-Vie near Mougins on April 8, 1973.
Gris's "Violin and Guitar"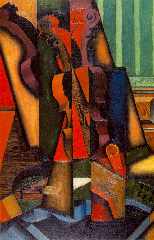 Gris's "Portrait of Picasso"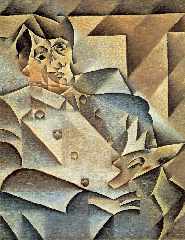 Gris's "Woman with a Basket"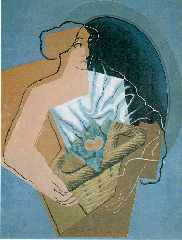 Other Artists:
While Picasso and Braque are credited with creating the new visual language, it was adopted and further developed by numerous painters, such as Juan Gris, Fernand Léger, Robert and Sonia Delaunay, Roger de la Fresnaye, Marcel Duchamp, Albert Gleizes, and Jean Metzinger. Though primarily a style associated with painting, Cubism also exerted a profound influence on 20th-century sculpture and architecture. Chief among the sculptors who worked in this style are Alexander Archipenko, Raymond Duchamp-Villon, and Jacques Lipchitz. The adoption of the Cubist aesthetic by the architect Le Corbusier is reflected in the shapes of the houses he designed during the 1920s.
Most importantly of these follow up artists is Juan Gris who is generally regarded as the third major artist of the period.
Juan Gris:
A Spanish-born French painter of the cubist school he was originally named José Vittoriano González. He was born in Madrid and educated there at the Escuela de Artes y Manufacturas (School of Arts and Manufacturing). He left Madrid in 1906 and went to Paris, making the acquaintance of Spanish artist Pablo Picasso and of the French painter Georges Braque.
Gris's first cubist paintings, generally more calculated than those of Picasso and Braque, appeared in 1912. He spent the next summer in Céret, France, with Picasso, and while there adopted the use of "papier collé", shapes cut from paper and glued to the canvas in a collage. During World War I (1914-1918) he worked in Paris until he had his first one-man exhibition in Paris in 1919.
From 1922 to 1924 he designed settings for two ballets of the Russian producer Sergey Diaghilev, "Les Tentations de la Bergère" (The Temptations of the Shepherdess) and "La Colombe" (The Dove), as well as continuing work on his own paintings.
After 1925 he worked mainly on gouaches, watercolors, and illustrations for books. Typical of his cut-paper technique is "Glasses and Newspaper". Most of his cubist paintings are still lifes, including "Violin and Guitar", and "The Open Window". He painted a lot of musical instruments.
He is called the Third Musketeer of Cubism, and actually pushed Cubism further until his ultimely death on May 11th 1927 at the age of 39.
Some of his other pieces are "Portrait of Picasso", "The Mountain 'Le Canigou'", "Man in the Cafe", "Le Lavabo", "Landscape with Houses at Ceret", "Landscape at Ceret", "The Man at the Café", "Still Life before an Open Window: Place Ravignan", "Portrait of Josette Gris", "The Open Window", "The Painter's Window", "Woman with a Basket".
Gris's "The Open Window"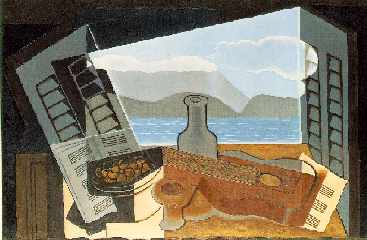 Fernand Léger:
(1881-1955) Léger was a French painter, who influenced cubism, constructivism, and the modern commercial poster and other types of applied art. Born in Argentan, France, he served a two-year architecture apprenticeship in Caen, France, and later studied unofficially under two professors at the École des Beaux-Arts in Paris, France.
Beginning in 1910 he was a prominent exhibitor and member of the Salon des Indépendants. Most of his early pictures were cubist in character, as in "Nudes in the Forest". Along with his compatriot Georges Braque and the Spanish painter Pablo Picasso, Léger played an important role in the development and spread of cubism.
Léger's subsequent work was influenced by his experiences in World War I. He began to use many symbols from the industrial world and attempted to depict his objects and people in machinelike forms. "The City" is one of his most notable paintings. Léger's work had an important influence on the movements of neoplasticism in the Netherlands and constructivism in the Soviet Union. He made highly successful efforts as a glass painter, as a sculptor, and in creating mosaics, ceramics, and tapestries. The modern commercial poster and other types of applied art were also influenced by his original designs.
In his late paintings, Léger separated color from his figures, which, while they retained their robotlike shapes, were painted in black lines. The color was then boldly laid over areas of the canvas to form a separate composition that tied the entire painting together. "The Great Parade" one of his last paintings, is a monumental example of this original style.
Robert Delaunay:
(1885-1941) Delaunay was a French painter, who was a pioneer of abstract art in the early 20th century. In 1912 he moved away from cubism—with its geometric forms and monochromatic colors—to a new style, called Orphism, which concentrated on circular forms and bright colors. His Windows series (1912) was one of the first examples of totally abstract art, an important landmark in modern art. His love of rhythm and movement led to several series of paintings based on sporting events, such as Sprinters and culminated in dazzling abstract works focusing purely on rhythm, such as the later Rhythms and Eternal Rhythms series.
Marcel Duchamp:
(1887-1968) Duchamp was a French Dada artist, whose small but controversial output exerted a strong influence on the development of 20th-century avant-garde art. Born on July 28, 1887, in Blainville, brother of the artist Raymond Duchamp-Villon and half brother of the painter Jacques Villon, Duchamp began to paint in 1908. After producing several canvases in the current mode of Fauvism, he turned toward experimentation and the avant-garde, producing his most famous work, "Nude Descending a Staircase, No. 2" in 1912; portraying continuous movement through a chain of overlapping cubistic figures, the painting caused a fury at New York City's famous Armory Show in 1913. He painted very little after 1915, although he continued until 1923 to work on his masterpiece, "The Bride Stripped Bare by Her Bachelors". He even did an abstract work known as "The Large Glass", composed in oil and wire on glass, that was enthusiastically received by the surrealists.
In sculpture, Duchamp pioneered two of the main innovations of the 20th century—kinetic art and ready-made art. His "ready-mades" consisted simply of everyday objects, such as a urinal and a bottle rack. His Bicycle Wheel (1913, original lost; 3rd version, 1951, Museum of Modern Art, New York City), an early example of kinetic art, was mounted on a kitchen stool.
After his short creative period, Duchamp was content to let others develop the themes he had originated; his pervasive influence was crucial to the development of surrealism, Dada, and Pop Art. Duchamp became an American citizen in 1955. He died in Paris on October 1, 1968.
Jacques Lipchitz:
(1891-1973) Lipchtiz was a French sculptor. Originally named Chaim Jacob Lipchitz, he was born in the village of Druskininkai, Russia (now in Lithuania). In 1909, while studying at the École des Beaux-Arts in Paris, he joined a group of artists, including the Spaniards Juan Gris and Pablo Picasso, who were experimenting with cubism, and soon was recognized as one of the foremost cubist sculptors. An important example of his cubist work is "Reclining Nude with Guitar". His later work departed from cubism, displaying more realism and a sensuous textural surface. His attempts to reproduce the mysterious, magical qualities of primitive sculpture also became increasingly evident in his work. One of Lipchitz's recurrent themes, especially after his arrival in the U.S. in 1941, was the triumph of light over darkness, as expressed symbolically in "Prometheus Strangling the Vulture". His monumental "Peace on Earth" is a good example of the grandeur and serenity of his late work.
Alexander Porfiryevich Archipenko:
(1887-1964) Archipenko was a Russian-American sculptor, born in Kyyiv. He studied at the Kyyiv Art School and at the École des Beaux-Arts in Paris. He made Paris the center of his activities from 1908 to 1914; lived in Berlin from 1921 to 1923; and after 1923 made his home in the United States, where he taught and lectured at various colleges and universities. From 1939 to 1955 he conducted a private school of fine arts in New York City. Archipenko was an experimenter and innovator in sculpture, deriving abstract forms from the human figure in some of the earliest cubist sculptures known, such as "Medrano". His style relied on the emphasis given to concavities and negative spaces, or voids.
Conclusion:
The Cubist style dominated several decades of the 20th century due to the many works by Braque, Picasso and Gris, and many other artists involved in the movement, making it a very large contribution to the development of arts in the 20th century.
Bibliography
Batterberry, Michael. Twentieth Century Art. McGraw, 1970.
Gerhardus, Maly and Gerhardus, Dietfried. Cubism and Futurism. Dutton, 1979.
Palau i Fabre, Josep. Picasso: The Early Years, 1881-1907. Rizzoli, 1981.
Selz, Peter. Art in Our Times: A Pictorial History 1890-1980. Abrams, 1981.