The History of Fantasy Art
The Art History Archive - Fantasy Art
---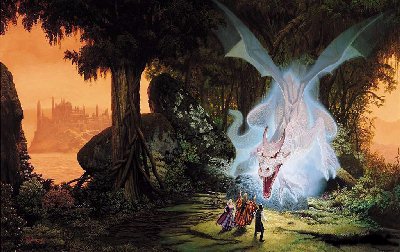 The Enchanting World of Fantasy Art: Characteristics and Significance
By Chaz T. G. Patto - May 2023.
The Fantasy Art movement has captivated audiences with its imaginative and otherworldly creations. This unique art form transports viewers to realms of magic, mythical creatures, and surreal landscapes. Through this essay, we will explore the characteristics and significance of the Fantasy Art movement, delving into its distinct qualities, artistic techniques, and enduring impact on the art world.
Characteristics of Fantasy Art
Imagination and Creativity: Fantasy Art is characterized by its boundless imagination and limitless creativity. Artists within this movement conjure up fantastical worlds, creatures, and narratives that defy the constraints of reality. Through their artworks, they tap into the depths of their imagination, often drawing inspiration from folklore, mythology, literature, and dreams.
Magical and Surreal Imagery: Fantasy Art often showcases magical and surreal imagery, transporting viewers to enchanted realms. Artists skillfully blend reality with elements of fantasy, creating landscapes inhabited by mythical creatures, fairies, dragons, and otherworldly beings. The artistry lies in the ability to evoke a sense of wonder, transporting viewers beyond the confines of everyday existence.
Rich Symbolism and Storytelling: Fantasy Art frequently incorporates rich symbolism and storytelling elements. Artists use symbols, motifs, and visual narratives to convey deeper meanings and explore themes of heroism, transformation, destiny, and the battle between good and evil. The artworks invite viewers to embark on imaginative journeys and interpret their own narratives within the fantastical realms presented.
Mastery of Mediums and Techniques: Fantasy Art embraces a wide range of mediums and techniques, showcasing the artists' mastery of their craft. Whether through traditional painting, digital illustration, sculpture, or mixed media, artists employ various techniques to bring their imaginative visions to life. The use of vibrant colors, intricate details, and meticulous craftsmanship are often key elements in creating the immersive and visually stunning worlds of Fantasy Art.
Significance of Fantasy Art
Escapism and Inspiration: Fantasy Art holds significant cultural significance as a form of escapism and inspiration. In a world often filled with mundane routines and challenges, Fantasy Art offers an avenue for viewers to escape into magical realms, providing a respite from reality. It sparks the imagination, encourages exploration of new possibilities, and stirs the desire for adventure and discovery.
Archetypal and Universal Themes: Fantasy Art taps into archetypal and universal themes that resonate with audiences across cultures and generations. The narratives and symbols employed in this art form often draw from collective human experiences, myths, and legends. Through its timeless themes, Fantasy Art connects people, transcending cultural boundaries and offering a shared imaginative experience.
Influence on Popular Culture: Fantasy Art has had a profound impact on popular culture, influencing literature, film, gaming, and other forms of entertainment. Artworks and concepts from the Fantasy Art movement have shaped the aesthetics and narratives of fantasy literature, serving as inspiration for writers and storytellers. Additionally, Fantasy Art has been instrumental in shaping the visual landscapes of films, video games, and role-playing games, creating immersive worlds that have captured the imagination of millions.
Personal and Emotional Exploration: Fantasy Art provides a platform for personal and emotional exploration. It allows artists and viewers to delve into the realms of dreams, fears, desires, and the subconscious. By immersing themselves in the fantastical worlds depicted, viewers can explore and confront their own emotions, fantasies, and inner journeys.
Conclusion:
The Fantasy Art movement stands as a testament to the power of imagination, creativity, and the enchantment of the human spirit. Its characteristics, including boundless imagination, magical imagery, rich symbolism, and storytelling, have captivated audiences and transformed the art world. The significance of Fantasy Art lies in its ability to transport viewers to otherworldly realms, provide escapism and inspiration, shape popular culture, and serve as a conduit for personal and emotional exploration. Through the realms of Fantasy Art, we are reminded of the transformative power of the human imagination and its capacity to transport us beyond the confines of our reality.
See Also: The Visionaries of Fantasy: Influential Fantasy Artists of the 21st Century
---
Imagination
Running Amuck
By Charles Moffat - January 2008.
I have yet to find an art history book which lists "fantasy art" as an art movement.
Perhaps it is because most art historians do not take fantasy art seriously, or because it is such a lengthy movement that goes back centuries and has its origins in folk art done by common peasants. Yet we take mythological and religious art fairly seriously judging by the amount shown in art history books, so why not fantasy art? Sheer ignorance perhaps.
Many of the most phenomenal art pieces I have ever seen have been fantasy pieces. The artists' creativity has simply overflowed into new ideas that would never have occurred to the majority of us. It therefore seems silly to me ignore a very large aspect of popular art which has dominated book covers, illustrations and movie posters for the past century.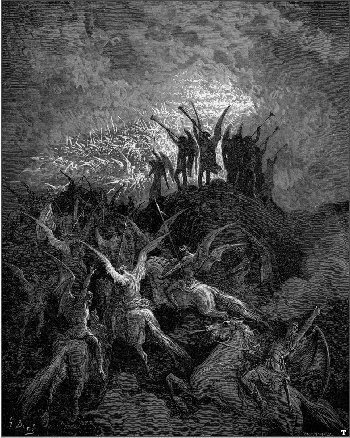 To find the humble beginnings of fantasy art we don't have to look very far. Religious mythology has been rampant in previous art movements and artwork about angels, demons, gods, centaurs and similar creatures can be found both Christian mythological art and Greek & Roman art. Gustave Dore's attempts to illustrate the story of "Paradise Lost" [right] for example was a marked achievement in Christian mythology.
But Western culture did not sprout fantasy art (as we know it) until after wide-spread literacy and common use of printing presses to create books. A method of serigraphy (to put images on paper) did not become patented until 1907. Prior to that time it was reasonably expensive to create printed works with images.
Fantasy art has been largely considered "low brow" ever since, thanks to every common man or woman drawing their own fantastical creatures or stories. During the Neo-Classicist period religious mythology was one of the highest endeavours to paint a topic on. Today most serious artists don't even paint religious themes unless they are making fun of it (Maurizio Cattelan's "La Nona Ora/The Ninth Hour" in 2000 is a good example). Collectively religious, mythological and fantasy art has been reduced to the level of "folk art". There will never be another Cistine Chapel. The Vatican isn't about to commission any young, ambitious artists to paint ceiling tiles. So just forget about it.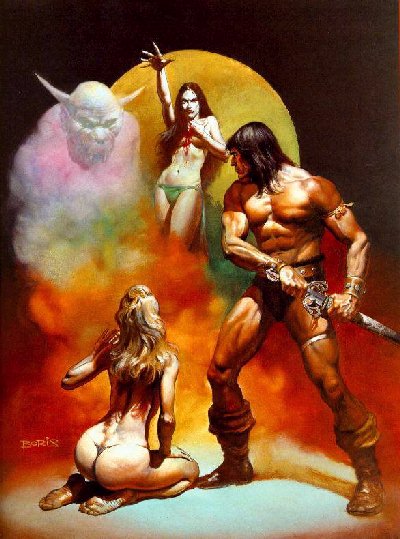 Early fantasy art was usually the result of narrative, and thus illustrations for books or pulp fiction journals was a primary source of income for fantasy artists. The Avon Fantasy Reader, Weird Tales, Argosy Weekly, Famous Fantastic Mysteries, The Blue Book Magazine, The Popular Magazine, Amazing Stories, Fantastic Adventures, Unknown Fantasy Fiction, Future, Startling Stories, Fantastic Adventures, Unknown Worlds, Imagination, Imaginative Tales, Fantastic Novels, A Merritt's Fantasy Magazine, The Saturday Evening Post Fantasy Stories, and Fantasy Magazine are but a few.
Thus modern fantasy art (and science fiction art) was born out of the literary world. Literary icons such as Robert E. Howard (the creator of Conan) and J.R.R Tolkien (author of The Lord of the Rings) have inspired artists for eight decades with their characters and fantastic plots. Conan especially, with his brutal sexual magneticism and scantily clad slave-girls and princesses falling at his feet, would profoundly effect how we still view fantasy art even today as primarily male-driven.
[Above Right: Boris Vallejo - Conan The Freebooter - Circa 1977]
Tolkien himself made artwork in an attempt to illustrate the world he had created, but that was like unleashing a floodgate as the world of Middle-Earth has been a popular topic for amateur and professional fantasy artists ever since.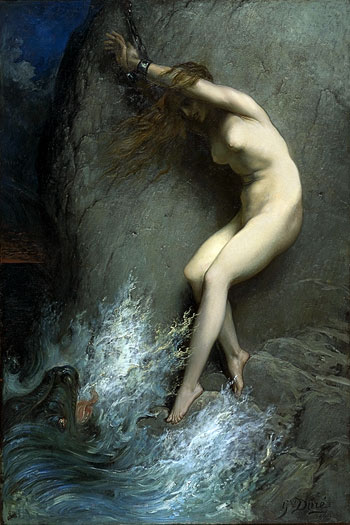 [Right: Gustave Dore's "Andromeda".]
Pre-1900 Fantasy Artists
Alfred Renz
Everett Shinn
Gustave Dore
H.J. Ford
John William Waterhouse
Mahlon Blaine
Maud Menefee
Maxfield Parrish
Sir Edward Burne-Jones
Walter Crane
W.W. Denslow

1910s
Clinton Pettee
Frank Craig
Harry Clarke
N.C. Wyeth
Rene Bull
Sidney H. Sime
Willy Pogany
W. Russell Flint

1920s
Emsh
Frank C. Pape
Franz Von Bayros
Glen White
Lee Conrey
Modest Stein
P.J. Monahan

Fantasy art is historically rooted in mythology, folklore and religious art from all over the globe. We can track the history of fantasy art back to Greek mythology, Christian mythology, Chinese folklore, various cultural traditions and African myths and superstitions regarding magic. Our museums are proof of this with sculptures and pottery portraying gods, dragons, evil demons, spirits, ghosts, forces of nature, angels, and heroic immortals. Fantasy art is a mixture of imagination and direct observation of reality. It takes reality and adds a fanciful, unrealistic, fantastic, dreamy, wistful feeling to it. Essentially the result of artists with wild imaginations.

For example Dutch artist Hieronomous Bosch was a famous fantastical artist of the 1500's who is most well known for his painting of "The Garden of Earthly Delights". The piece is a triptych of Eden portraying Adam and Eve, giant fruits, winged houses, and glass domes. His nudes were sensuous yet haunting as he wanted to relate his ideas about Adam and Ever and their Original Sin.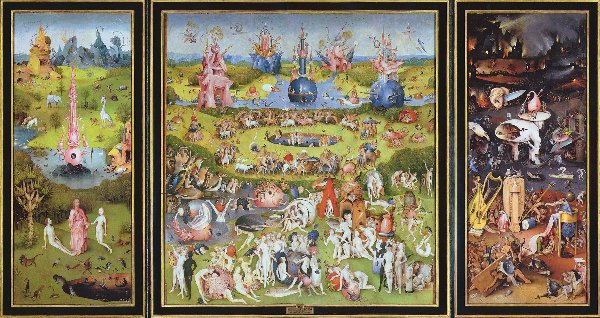 With the technological advances of photography and printmaking modern artists needed a new challenge in the art world and focused on expressionism, cubism, abstraction, fantasy and surreal art. The meaning and purpose of art changed as artists explored different ways of expressing ideas – not just reporting historical events, and subjects. Artists turned to painting the unseen (and thanks to their literary counterparts) their imaginations ran wild. Today, fantasy art continues to be extremely popular where artists and art lovers can enjoy sci fi, surreal, mythological, unexplainable, imaginative, and taboo themes.